What's the Estonian e-Residency and how it can help boost your online business
What's the Estonian e-Residency and how it can help boost your online business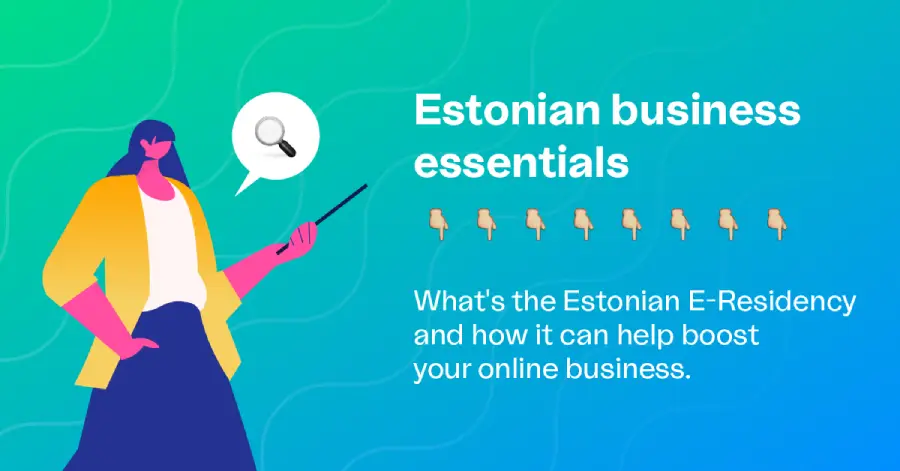 Today there are more than 1300 startups in Estonia and the number keeps growing.
It does not matter if you run a startup, are a freelancer or are a digital nomad. Estonia can be a great solution for you thanks to the e-Residency program.
You might have already read something about it but you are not sure what it is exactly. Is it a residency permit? Is it a visa? If you have no clue about this, keep reading.
What Is Estonian E-residency?
The Estonian e-Residency program is a revolutionary initiative launched by the government of Estonia. After its independence from the former Soviet Union, Estonia has taken decisive steps to build its digital nation.
This ambitious project has been so innovative, and its results so impressive, that Estonia is considered the most advanced digital society of our time.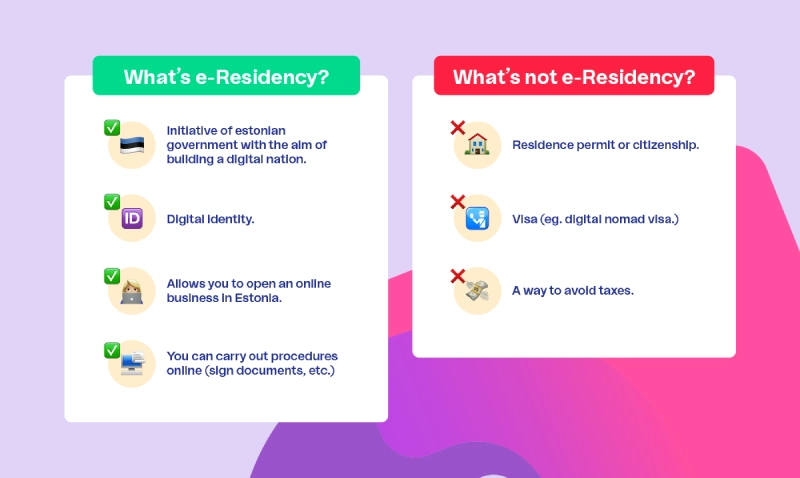 The last step in this process, the Estonian e-Residency program, allows anyone to become a digital resident of the baltic country, obtaining an ID card with a certificate. This digital identity allows you to access the Estonian administration and identifies you as a member of the digital nation.
So why is that interesting?
Although that card does not grant you any physical residence or citizenship rights, it allows you to do a lot of different things, from signing documents to founding a company in Estonia without ever visiting the country. It is a gateway to the Estonian digital administration.
This means that if you are an e-resident entrepreneur and open a company in Estonia you can start an EU company and manage your business remotely, from where you want and 100% online.
What's Not Estonian E-residency
❌ As we said before, the Estonian e-Residency does not grant you any physical residence or citizenship rights.
❌ It is not a visa. It could be confused with the digital nomad visa, but they are different things. For the digital nomad visa, you do not need to have a company in Estonia, it just allows you to live and work in Estonia for a specific period of time. You can find more information about it in this article.
❌ Estonia is not a tax haven, so the e-Residency program is not a way to avoid paying taxes in your country.
Who Can Apply for the Estonian E-residency?
The Estonian e-Residency program is a great solution for:
✅ Entrepreneurs and freelancers who want to run an online business in the EU market and do it without paperwork and borders.
✅ Digital nomads who want to achieve true geographical independence and work from wherever they want.
Benefits of Being an E-resident in Estonia
Zero paperwork and bureaucracy!
One of the most alluring possibilities of the Estonian e-Residency program is starting a business online, in a matter of hours, sitting comfortably on your couch.
Besides, using your ID card, you can manage the company remotely, sign documents, pay your taxes, and much more.
I know, I thought the same thing: it sounds too good to be true.
You'll also be able to do banking completely online. So all you need to run your business is your laptop.
If you have or have had a company before, or even if you are a freelancer, you know that it's all about red tape and bureaucracy.
For starters, the process of founding a company requires you to visit multiple offices: the notary, the tax office, the business register… it's not a simple process.
Once you have the company registered, more paperwork is needed. Most probably you'll have to hire an accountant and, even then, spend a good amount of time filling spreadsheets with your invoices and bank movements.
The Estonian e-Residency program makes it easy for you to have a business:
You register your company online, and operate it remotely, from anywhere in the world.
You pay your taxes from your phone and grant your accountant a power of attorney to do your bookkeeping in minutes from a website, without the need for a notary.
Compare that situation with visits to all tax offices, notaries, the registry, etc… The only time you'll need to visit Estonia is if you want to open a bank account with a traditional bank, and that's not even necessary thanks to fintech solutions like Wise.
In conclusion, thanks to the e-Residency of Estonia you save time and money, so you can focus on growing your business.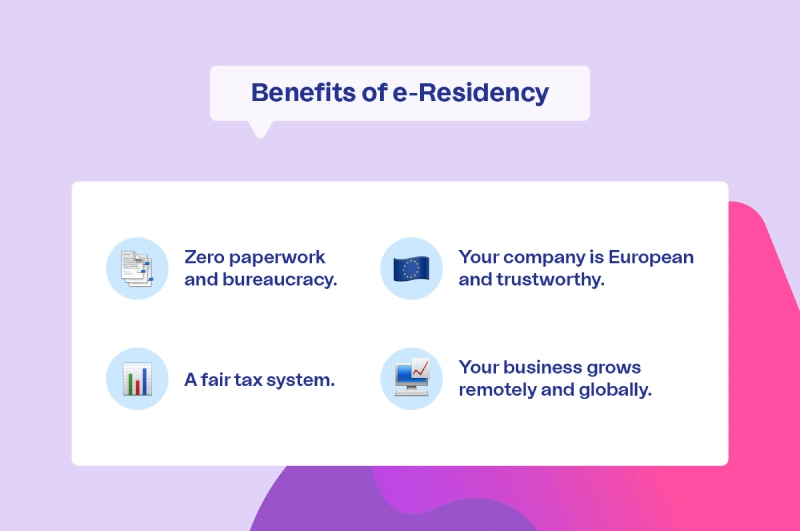 A fair tax system
The tax system in Estonia is not only fair, but also transparent and it makes sense.
You do not pay taxes on the money that the company earns, only on what you distribute as salaries or dividends.
In addition, any freelancer or entrepreneur can easily understand it by spending an hour reading about the main concepts and how taxes work.
Run an EU company
Running an EU company means that you will be a trusted member of the European Union business community and Estonia, known for growing famous startups such as Wise or Taxify.
You also become part of an exclusive network of entrepreneurs.
Grow your business remotely and globally
You can hire employees from all around the world and you can carry your business with you, which means total geographical independence.
The Estonian e-Residency program gives you the freedom to become a nomad and travel wherever you want, managing your business remotely. Think about the possibilities for startups willing to go global, with members distributed around the world.
How to Apply for It?
You can register as an e-Resident in Estonia in just a few clicks, it is really simple. If you want to know how to apply for it read this article.