Banks in Estonia: traditional or digital solutions? That is the question
Banks in Estonia: traditional or digital solutions? That is the question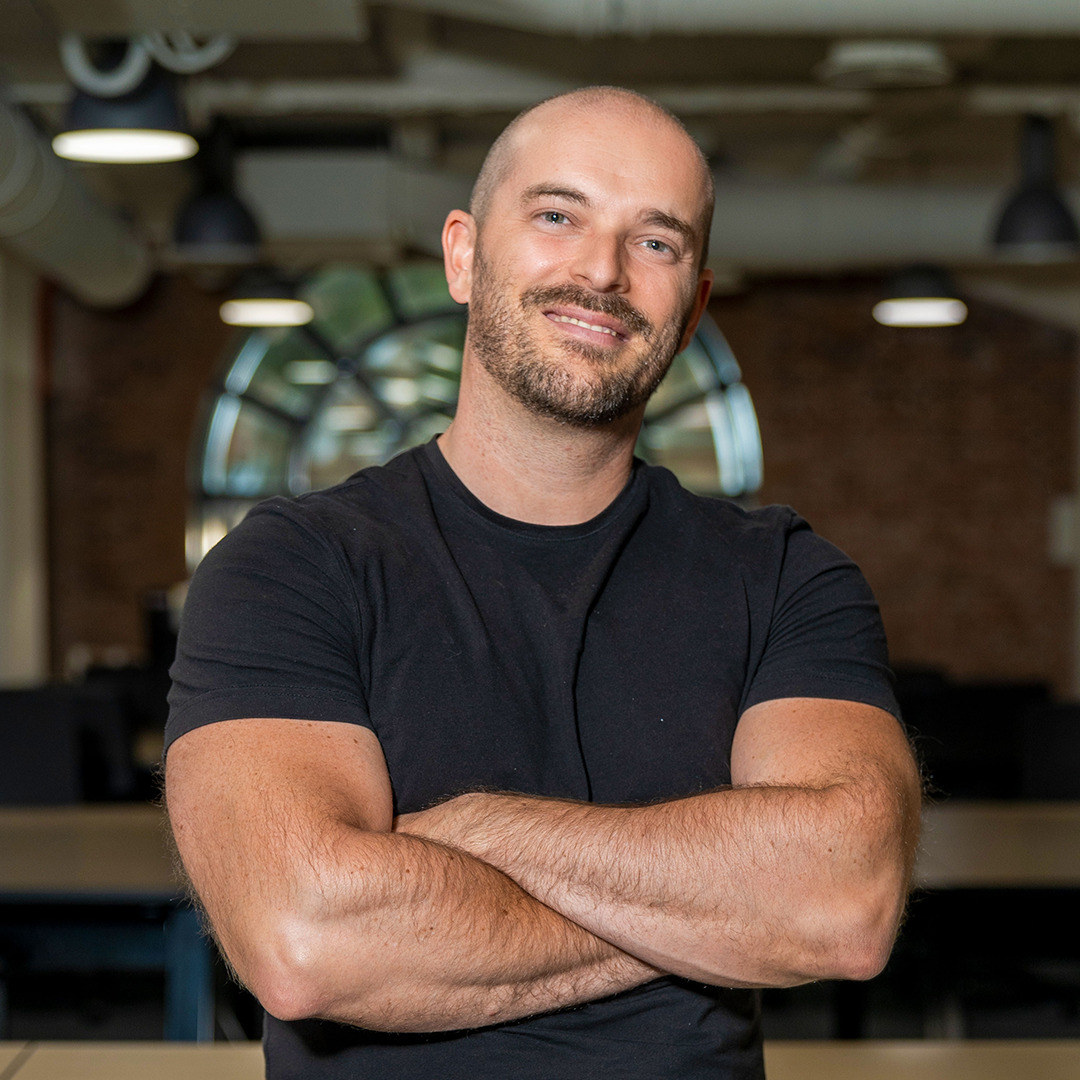 Ignacio Nieto
24 March 2018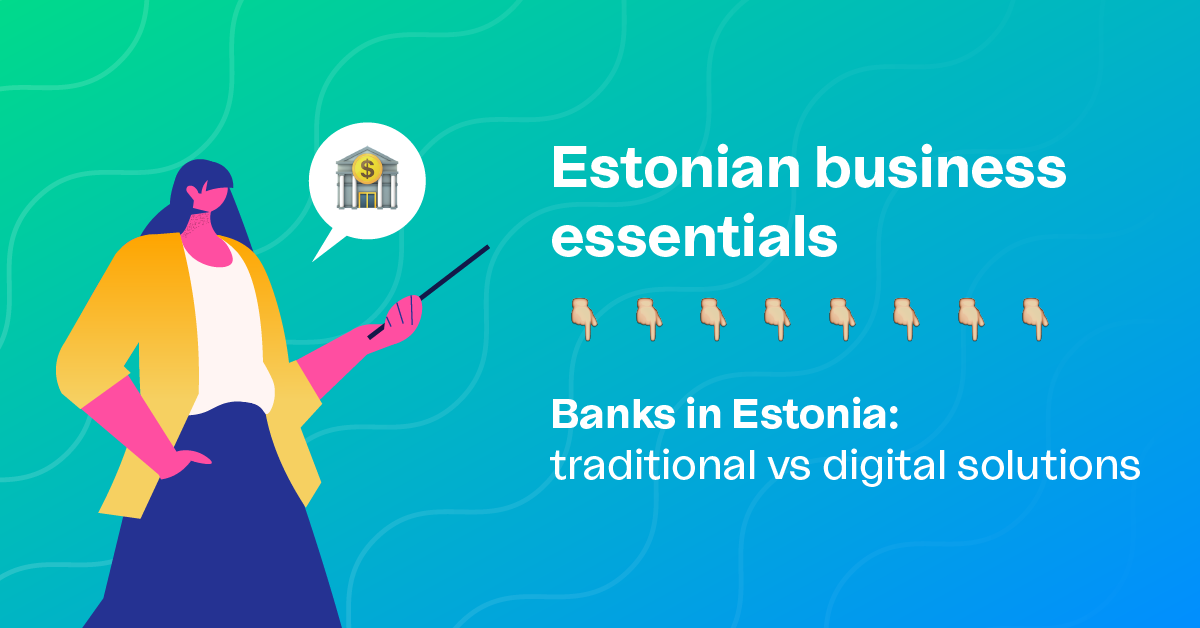 Have you registered your company in Estonia? Congratulations! 🥳
The next step is opening a bank account in Estonia.
It is really important because without it you will not be able to invoice your customers, pay your suppliers or distribute benefits.
In this article, we talk about the different banking solutions available, and how you can open a bank account in Estonia for your company. If you are our customer, we will guide you through the whole process.
Traditional bank accounts vs. digital solutions
Your company needs a bank account, but this bank does not need to be an Estonian bank. It does not need to be a traditional bank at all.
There are many banking solutions you can use to transfer money, invoice, distribute benefits and operate seamlessly without the need for a traditional bank account.
The main advantage of these fintech solutions is that you don't need to visit the country to open a bank account in Estonia. It can be done completely online.
So, why open an account in a traditional bank instead? We are going to see some advantages and disadvantages of both approaches.
Traditional bank accounts
😀Advantages
All traditional banks adhere to the European deposit guarantee fund, covering you up to 100.000€ if the bank goes bankrupt. That may be important for some entrepreneurs or companies.
😩Disadvantages
The main disadvantage of using an Estonian bank is that you will need to travel to Tallinn, the capital of Estonia. That's because traditional banks have a KYC policy (Know Your Customer) that requires them to meet their customers face to face to open a bank account for them.
One important point to consider is that most Estonian banks will require that you or your company prove a certain bond or attachment to Estonia beyond being an e-Resident. This is quite subjective, and proving that may not be straightforward.
🤩 Options
As we said in the beginning if you choose a traditional bank it could be an Estonian bank, but it doesn't have to be. You can choose between these two options:
Estonian banks. There are many banks in Estonia to choose from, but the most important are these: Swedbank, SEB, LHV, Luminor, and Coop Pank.
A bank from the EEA (European Economic Area). From 2019, it's perfectly fine if you want to use a traditional bank from the EEA (European Economic Area). So you may open an account for your company with a French, Italian, or German bank. In that case, there are certain documents that you will need to obtain, notarize, with an apostille, and probably translate by a sworn translator.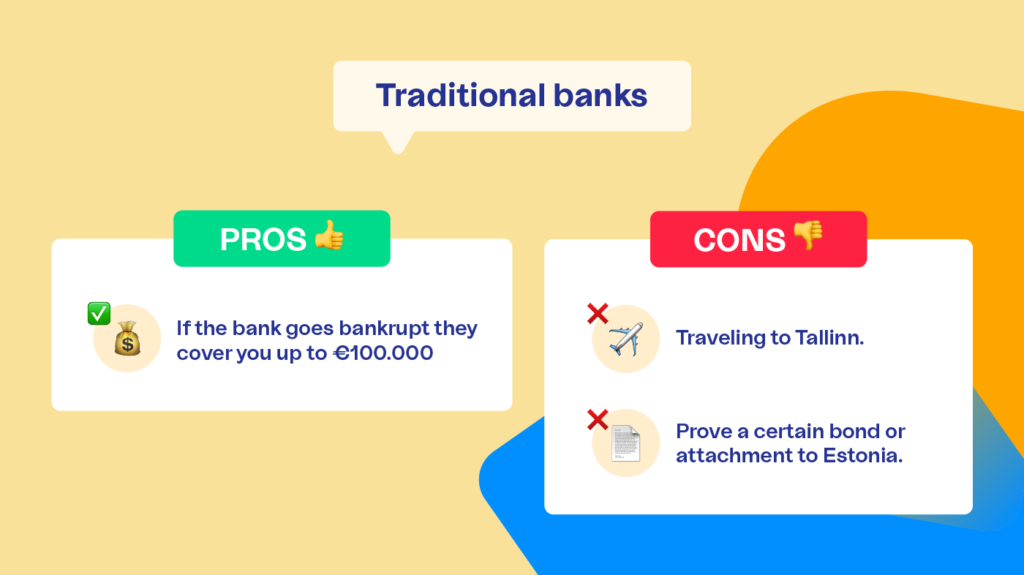 Digital solutions
On the other hand, there are fintech alternatives such as Revolut Business. In this post, we talk about these digital solutions in more detail.
😀Advantages
You save money, as the costs are lower than traditional banking services.
You do everything online, which means saving a lot of time.
Another benefit of doing everything online is managing your bank accounts from wherever you are and whenever you want.
You can transfer money for free to other countries in the Single Euro Payment Area (SEPA), including countries that are not EU members at the moment.
Although not all of them have a banking license or are covered by the European Guarantee Fund, your money is protected somehow. Eg. Revolut Business safeguards your money through a process called "safeguarding," which is a requirement for electronic money institutions (EMIs) like Revolut. When you deposit money with Revolut, it is either placed in a dedicated client money bank account held with a large global bank or invested in low-risk liquid assets held in a dedicated client asset account with a large global financial institution. This means that if Revolut were to become insolvent, your money would be protected, and customers' claims would be paid out from these dedicated accounts before anyone else's claims.
😩Disadvantages
Owning a digital bank account is the same as having a normal bank account (or even one bank account for each currency), with some important differences :
You cannot apply for loans.
You will not earn interest for the money your company has.
However, some alternatives allow you to operate with your finances without having a bank account, such as Revolut, N26, or Monzo.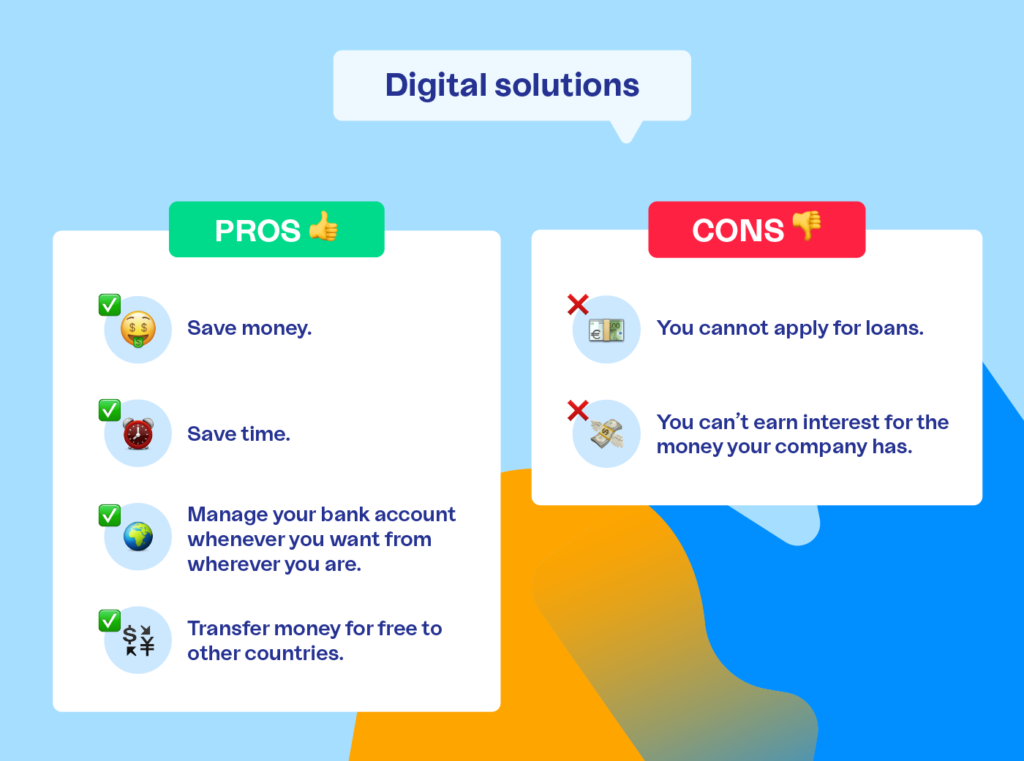 The Verdict
Unless you have a good reason to opt for a traditional bank account, fintech solutions such as Revolut Business are perfectly valid alternatives for your business.
You can even open a bank account initially with a digital solution, try it, and switch later to a traditional bank account if you need it for some reason.
However, that shouldn't be the case in most scenarios. You can receive money from your clients, invoice them, pay your customers, distribute salaries and dividends… everything most businesses need.
So Now What?
When you have your bank account, you are ready to:
Start invoicing your customers for your products or services. You can also pay your providers.
Distribute salaries as soon as you start earning money.
If you are our customer we can apply for the VAT number for your company and register you as an employee.
Once you have opened your bank account in Estonia you already have everything you need to run your business! 🤩
And best of all, you do not have to worry about paperwork, taxes, or red tape. Let us do the hard work and focus on making your business grow. Learn more about how we can help you at this link.