How To Update Your Contact Information For Your Company In Estonia In The Statistic eStat Website
How To Update Your Contact Information For Your Company In Estonia In The Statistic eStat Website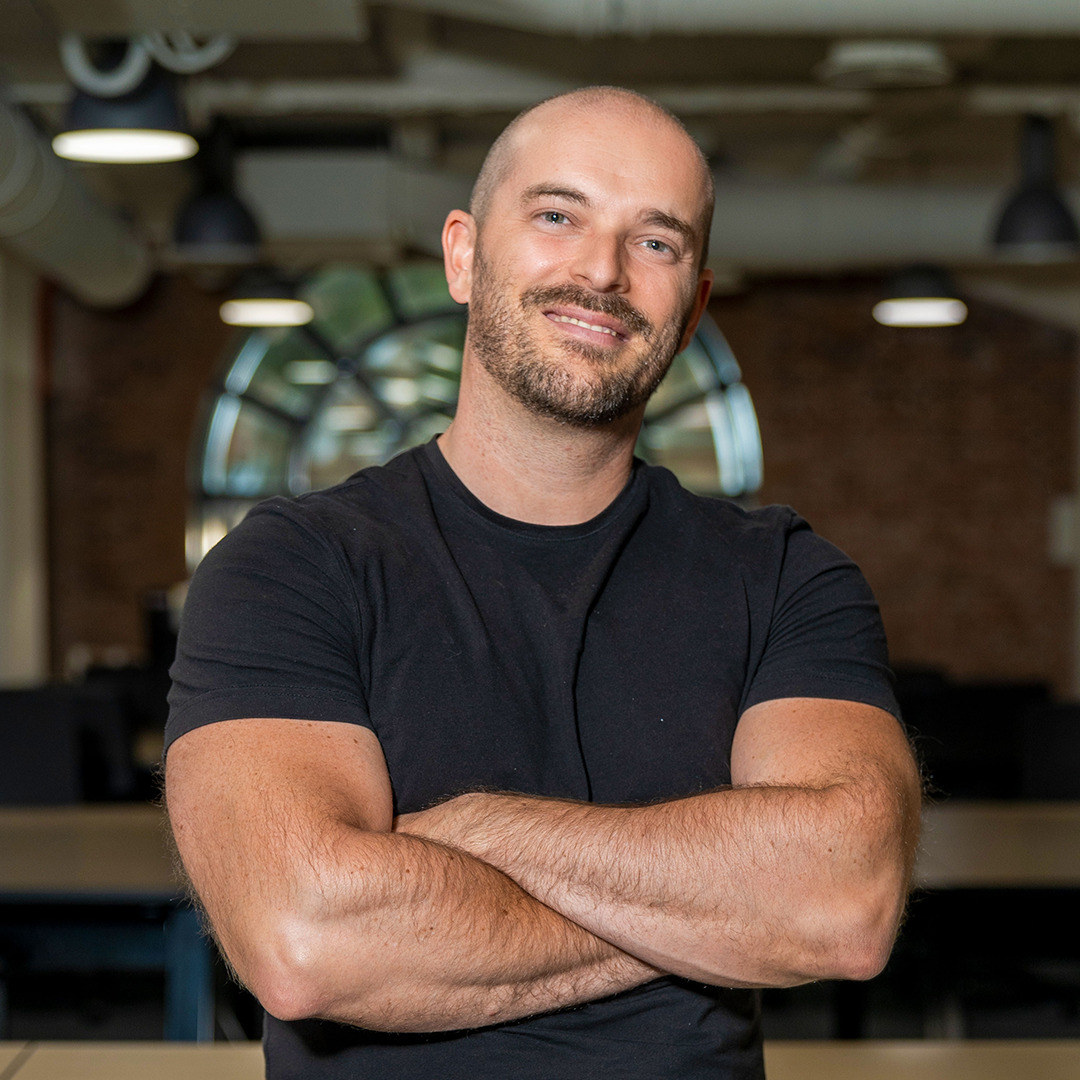 Ignacio Nieto
19 February 2019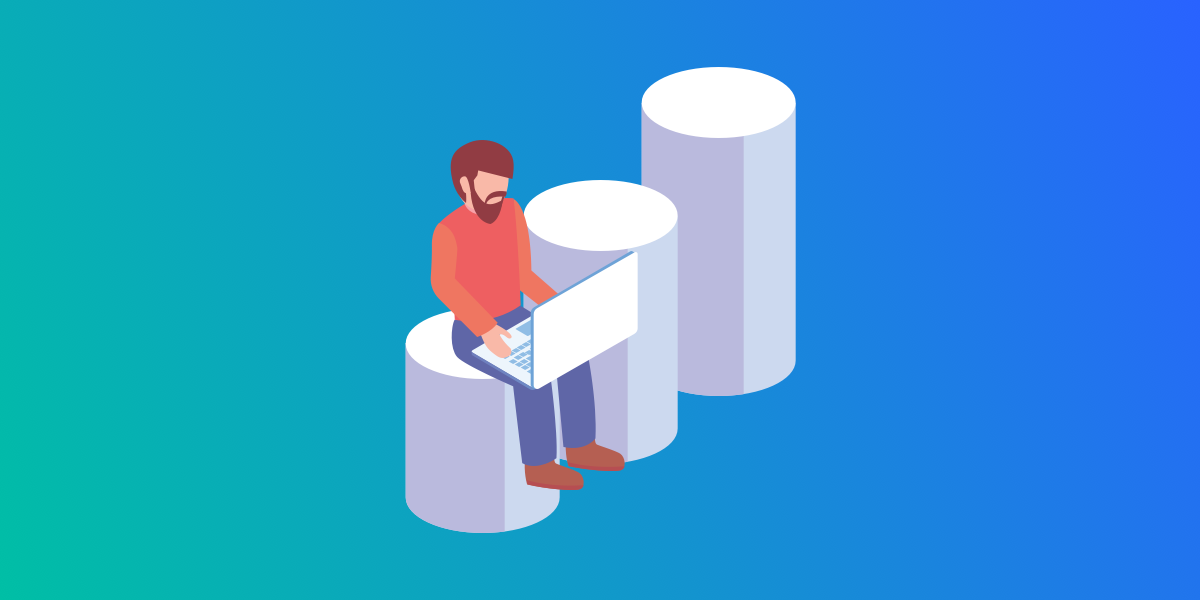 In Estonia, thanks to the e-Residency program, there is almost no paperwork you need to do and, fortunately, all can be done completely online. One of the ones you may need to do is updating your contact information for the Estonian statistics department (eStat). In this post, we explain how to update your contact information for your company in Estonia in the statistic eStat website.
Do I need to do this?
Yes, although it is not necessary until the Estonian authorities request it. Normally, they will do so by sending you an email similar to this one:
Dear respondent,
The board member information in the commercial register has changed.
Please update the user rights of your enterprise in eSTAT within 4 weeks. If data is not updated, your eSTAT account will be blocked.
Yours faithfully,
Statistics Estonia
It may seem a little scary, but it's not that much of a problem. They just need some information from you. With a few simple instructions, in five minutes, and with the help of your e-Resident card, you can specify that information. Let's see how it's done!
How to Update Your Company Information Estonia in the Statistics Portal
These are the steps to be taken to update your company information in Estonia on the eStat portal in Estonia. Have your card and your computer ready.
Access the eStat portal
You just have to go to the eStat portal (https://estat.stat.ee/sa-auth/login?TARGET=https%3A%2F%2Festat.stat.ee%2Fvalisportaal%2Flogin%2Fcas). Once there, select ID-Kaart, "Log in with your ID card", and enter PIN1.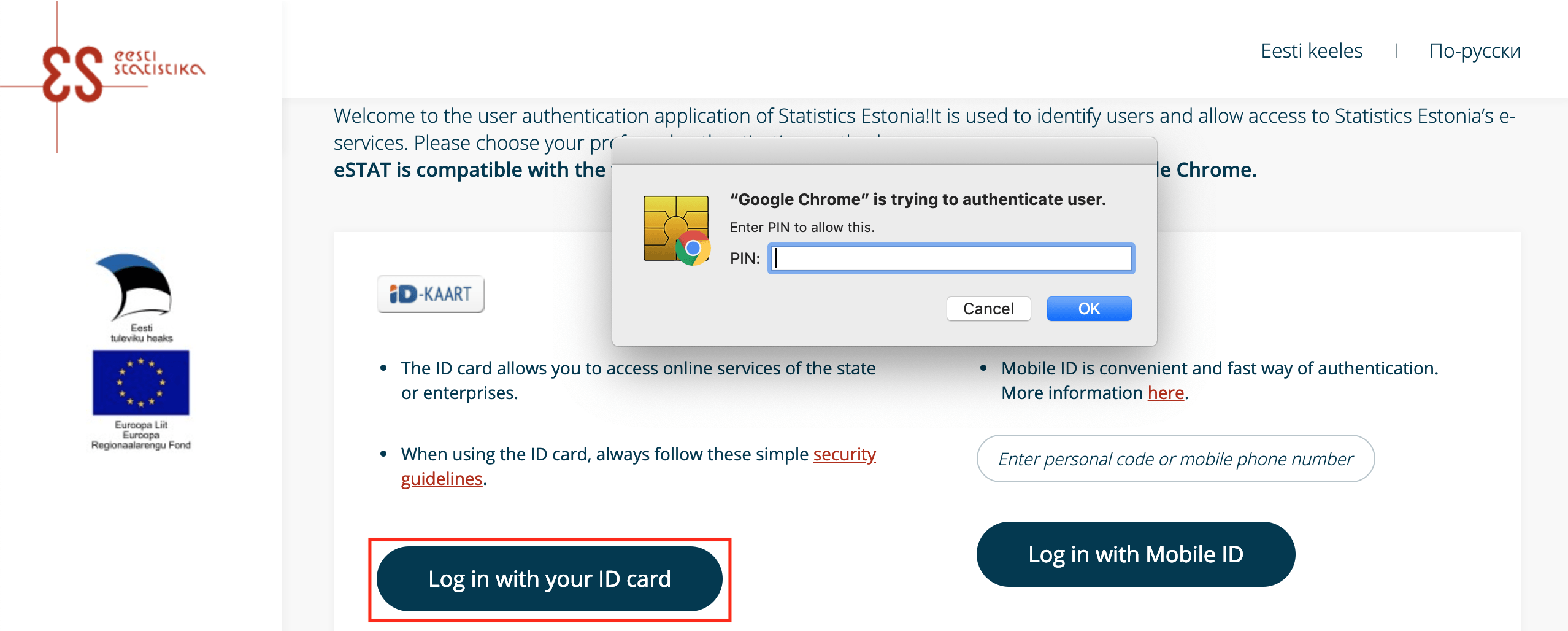 If you can't understand anything on the website, that's because it's in Estonian :). No worries, simply click on "English" on the top right.

Then select "Enter the company environment", as the figure shows.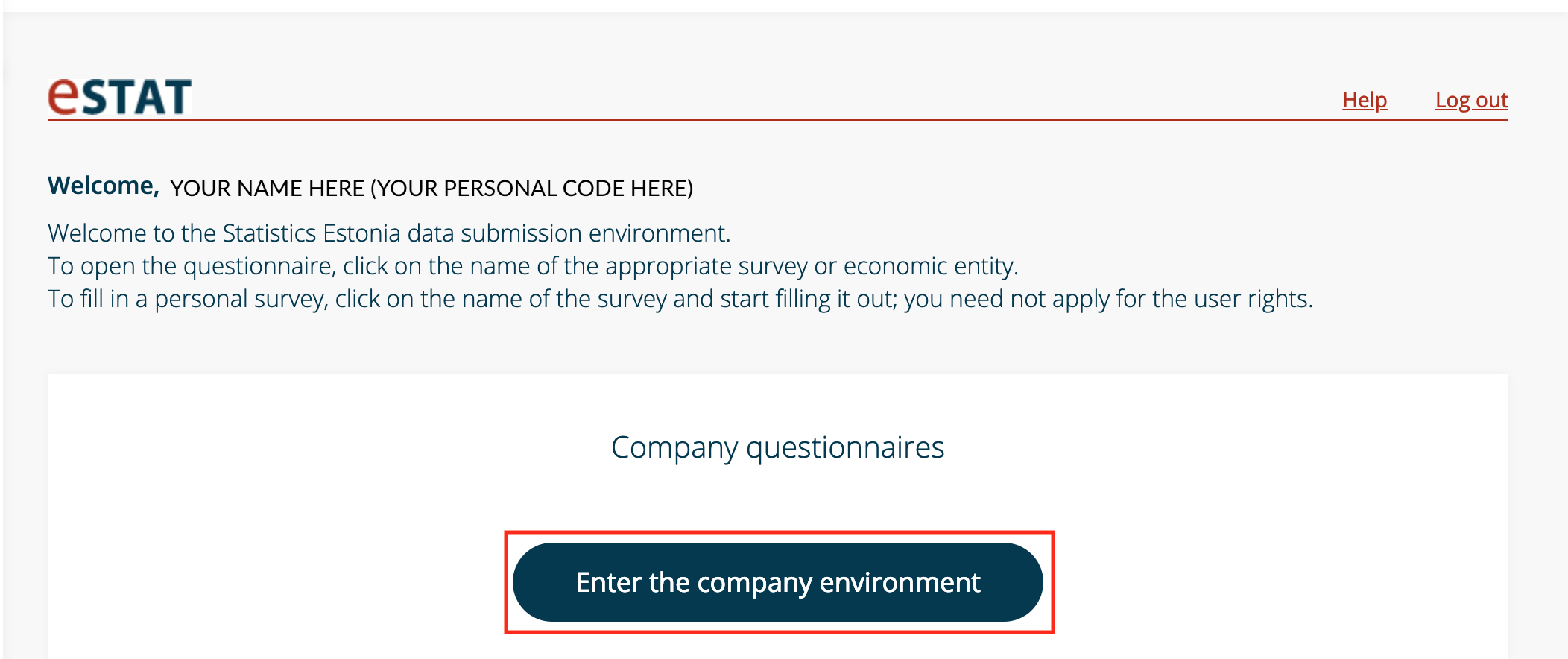 Now you need to add your personal and business information. Let's start with the profile data. Click on the top right, in the menu where your name appears, and select "My details", and edit your information with the "Edit data" button.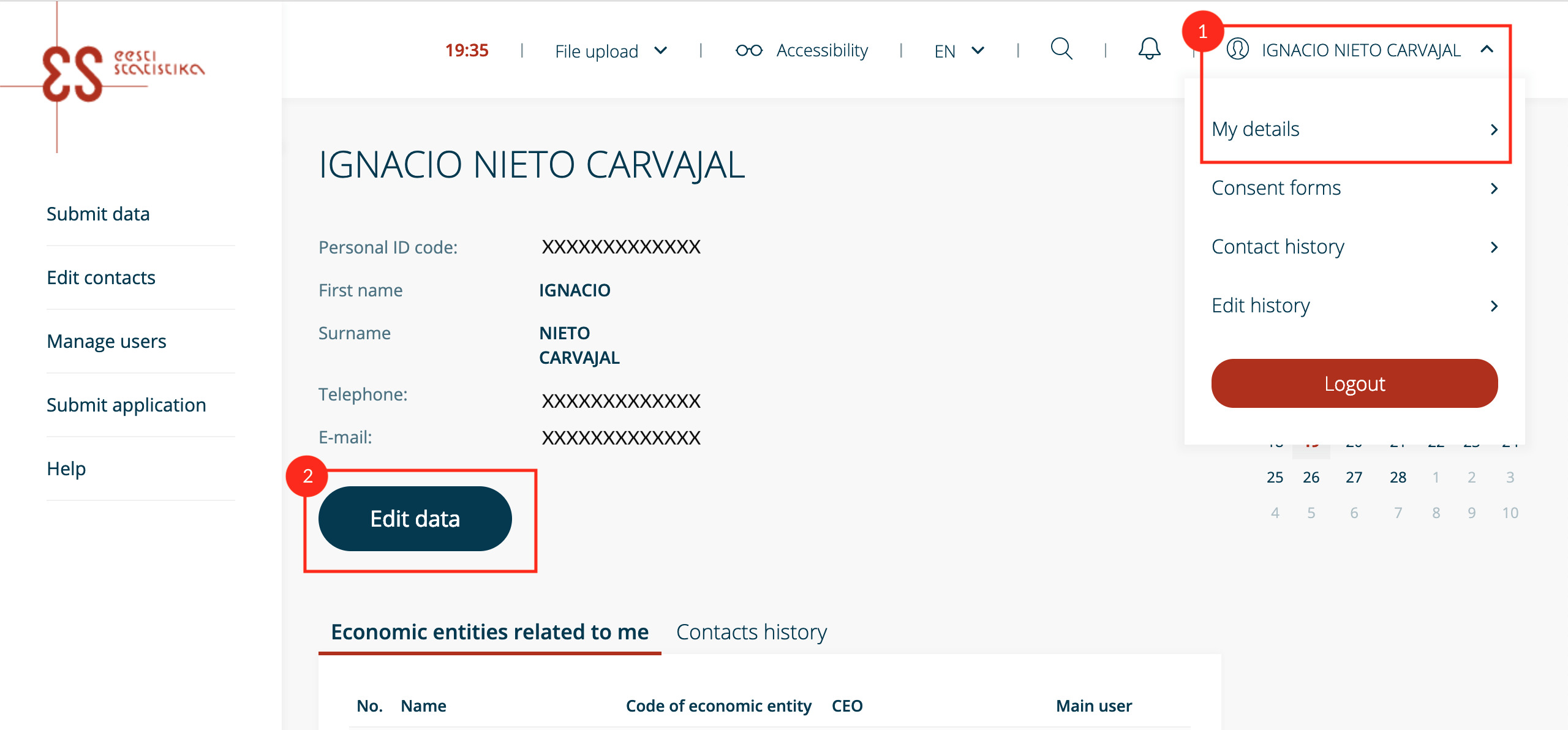 Once this information has been modified, we need to go to "Edit contacts". You will see a table that says "Economic entities". If you only have one company, only one entry will appear. Click on the name of your company (in red). It will take you to a screen where you will have to edit the data of your company.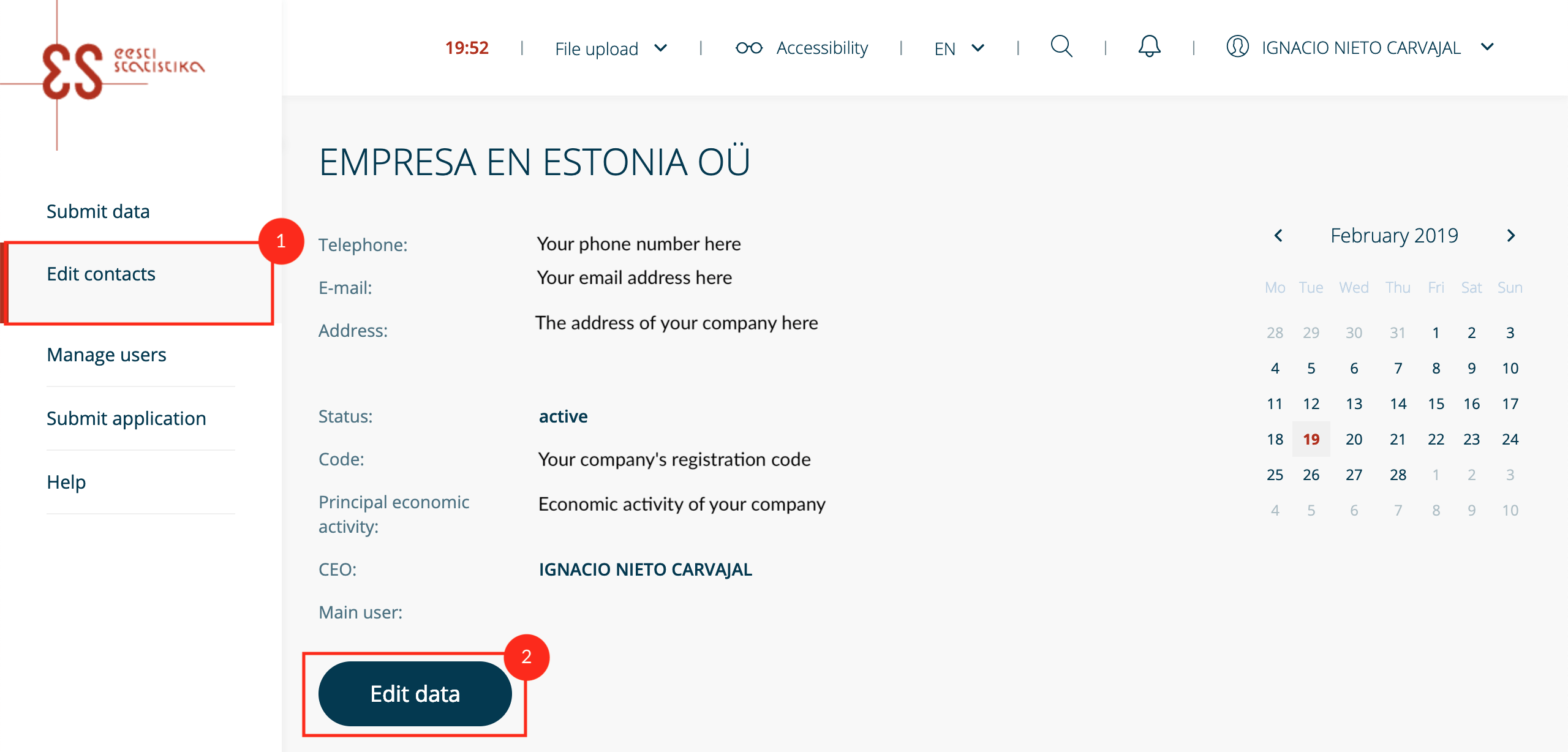 Finally, we must make sure that your user is correctly defined. For this you have to go to "Manage users", and check if an entry appears with your name and data correctly assigned. If not, just click on the "Add new responder" button and add yourself as CEO.

If you have several companies, you will be shown a screen where you need to select the one you want to manage. Just click on it in the selection control and click on "Select".
Now you just need to add your data as shown in the picture below and choose "Juhatuse Liige" as "Job title" (which means member of the board). Then, click on "Save".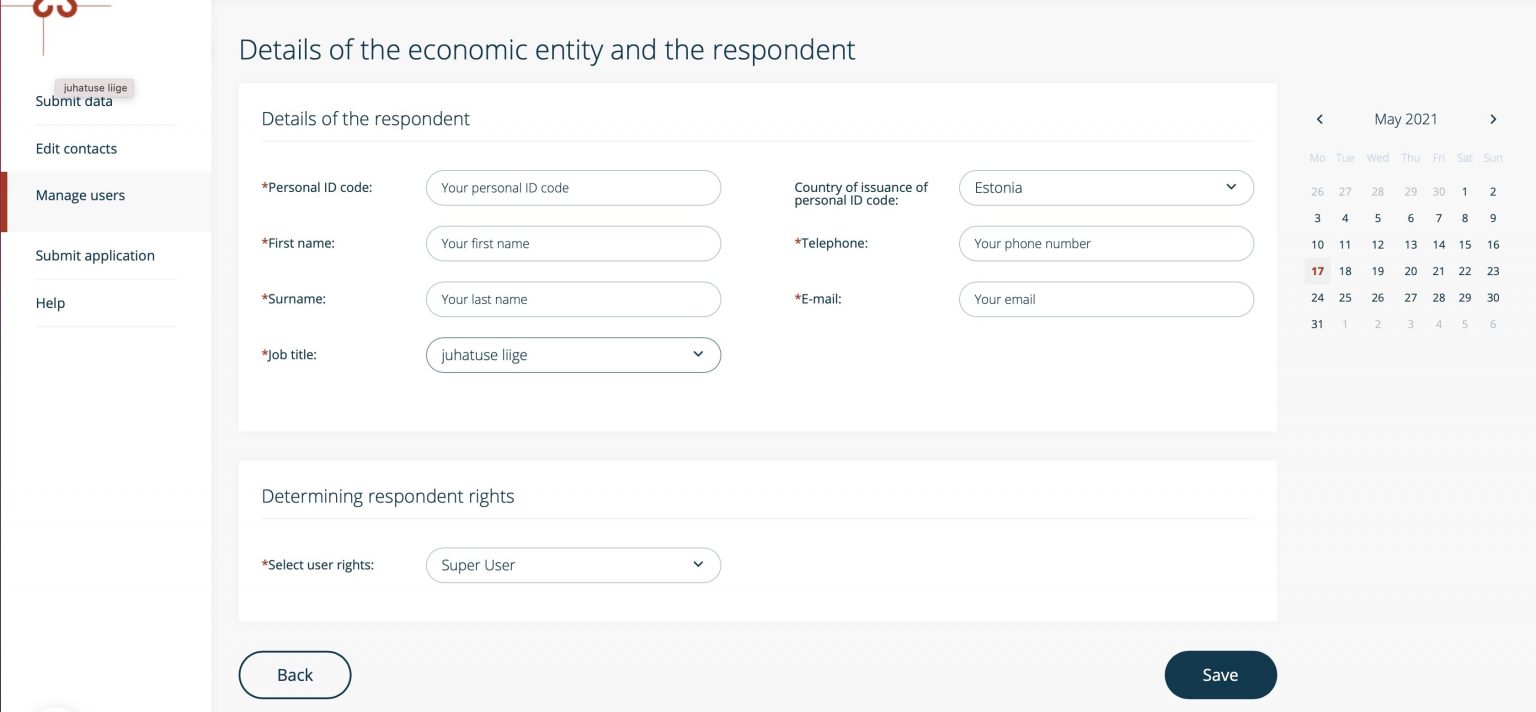 And that's it. Easy, right? It is a small procedure that can be done in just 5 minutes, totally online with your e-Resident card.
Help, I'm lost! 😱
If you get stuck at some point, do not worry, contact us and we will be happy to assist you. Contact us here.