How to Apply for the Estonian e-Residency?
How to Apply for the Estonian e-Residency?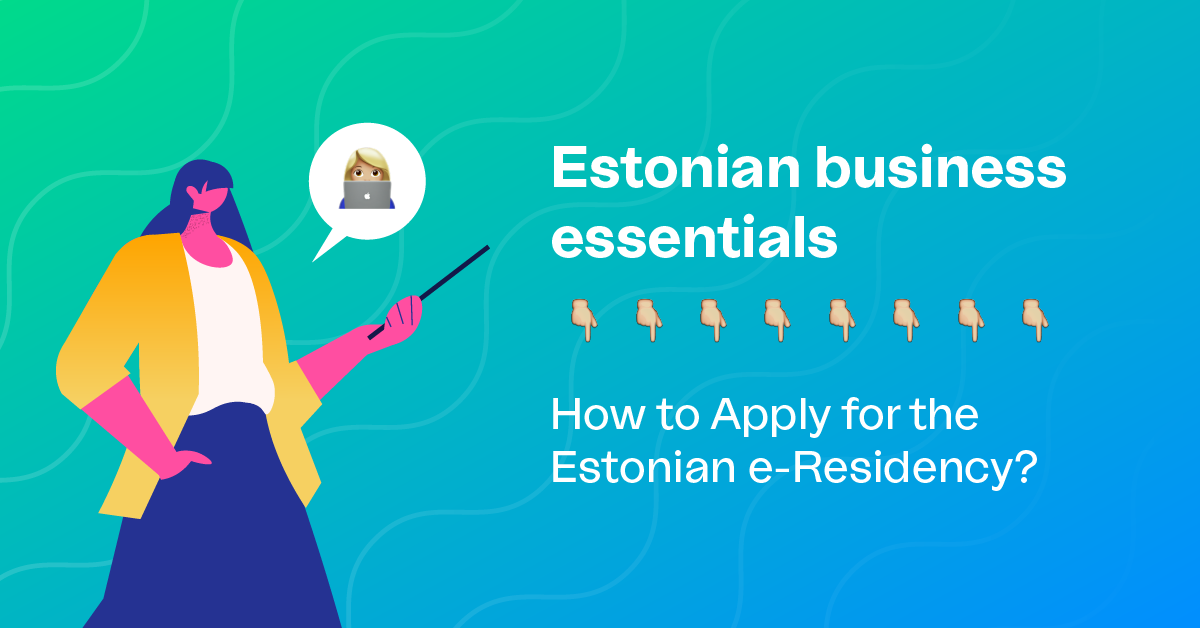 Are you thinking about starting a business in Estonia and applying for the Estonian e-Residency?
If that is your case, we have got good news for you: the process is fairly simple, and you will realize it once you have read this article. 😉
Let's see the steps to follow!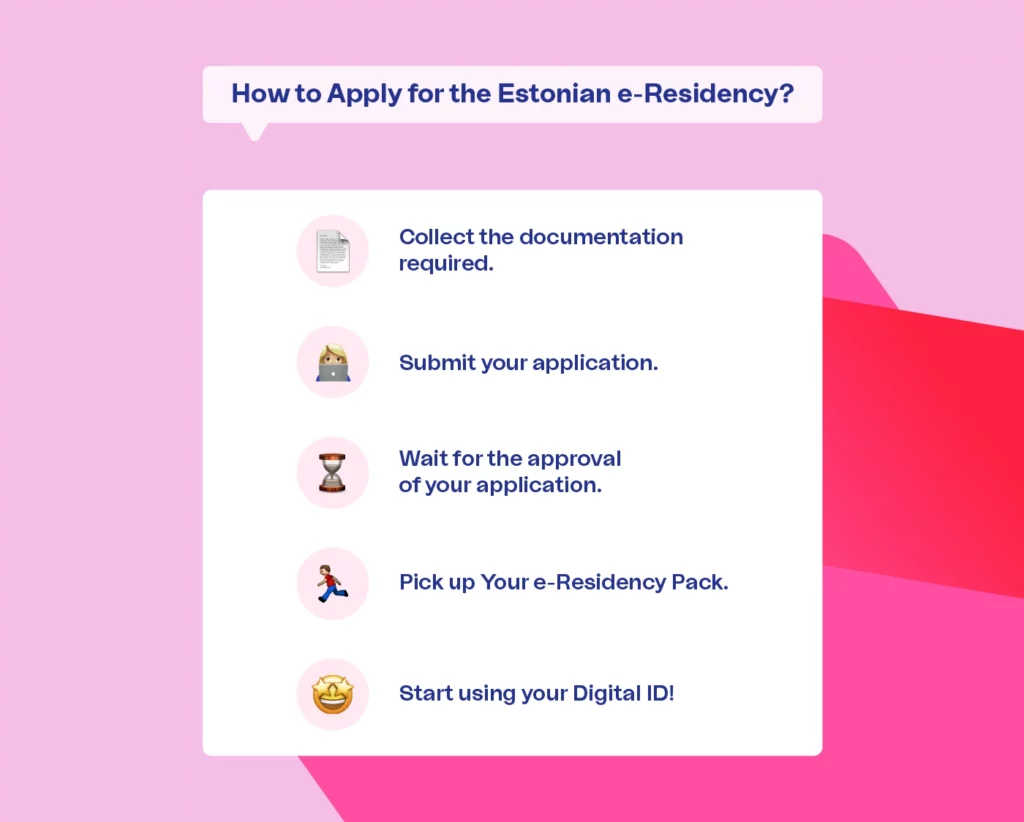 1. Collect the documentation required
To become an e-resident you will need these documents:
A copy of your ID.
A passport-size photo in .jpg or .jpeg format.
CV (or a link to social media like LinkedIn).
Your Visa or Mastercard to pay the state fee of €120.
2. Submit your application
The second step to applying for the Estonian e-Residency is to go to the application page of the e-Residency program and fill in all the required information.

First, you'll be asked to provide personal information such as your name, surname, citizenship, etc.Be sure to include accurate information, especially the email and phone (as the e-Residency program may need to contact you if certain data is missing or they require you to clarify information). The application process itself takes around 30 minutes if all the documents required are ready.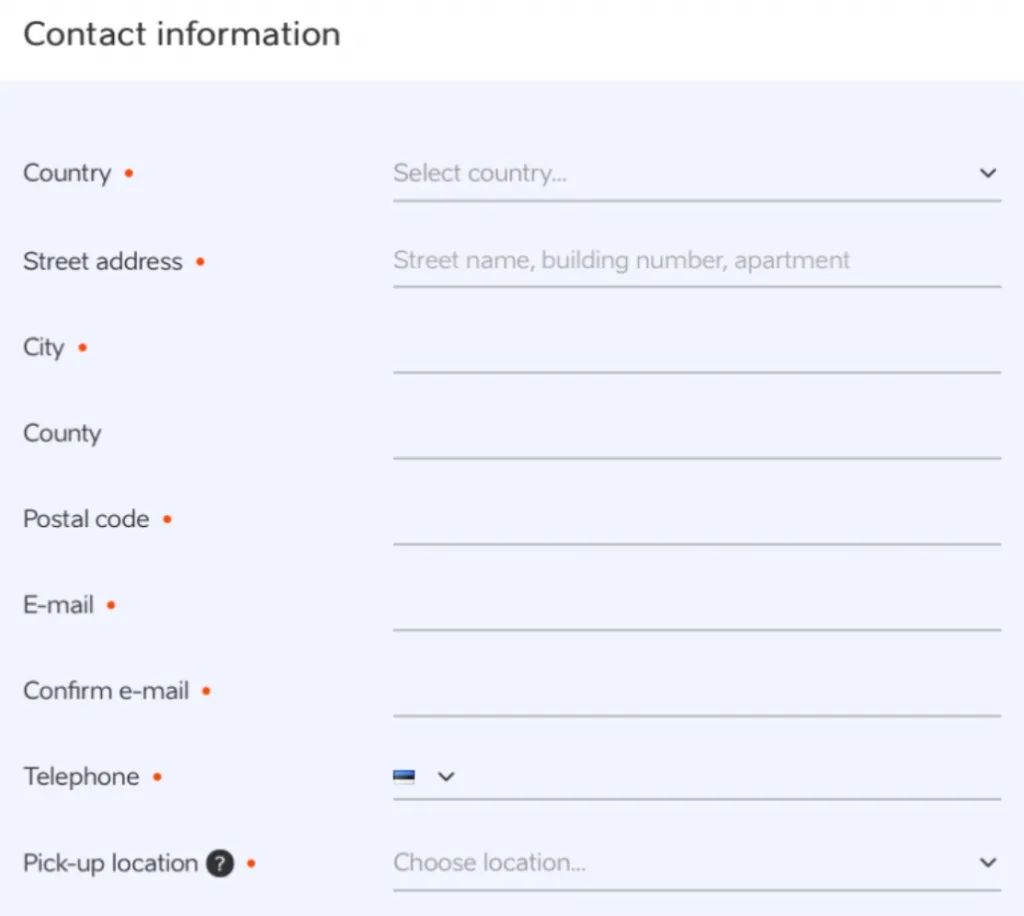 After that, you must fill in the details of your national ID (if you are European) or your passport.The issuing authority is the official institution that issued your ID or passport. Typically, this information is displayed in the passport itself.
You will also need to upload a picture of your face and another of your ID or passport. This face picture has to follow the guidelines for most passport photos: white/neutral background, clearly visible face (e.g. no sunglasses).
Next, you'll be asked to add some additional information like your CV, social media accounts, and/or criminal background. Some of these fields are mandatory, but if you don't have any of them, there is an option to specify them.
You may also include current business activities you're carrying out with other companies.
Finally, you'll be asked why you want to become an e-Resident. Here, you should likely choose, "Location Independent International Business".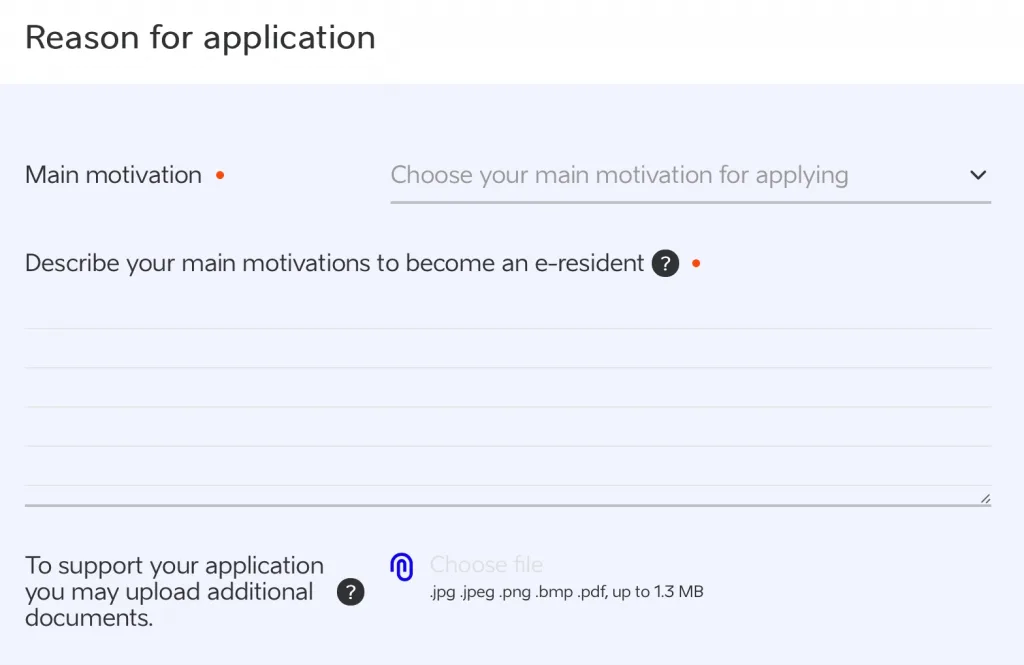 You'll also have to choose your pick-up location for your card, but make sure that the location is in a country or region you have the right to go to.
If you're outside of Estonia, these places need to be Estonian embassies. If your current country doesn't have an Estonian embassy, you'll need to travel to the closest collection point. Before picking up this e-Residency kit for Estonia, you will need to schedule an appointment with the embassy.
3. Wait for the approval of your application
The process can take up to 30 days, and you might be asked for additional information or documents if needed.
When your application gets approved, you'll receive a confirmation via email from the Estonian Police and Border Guard Board.
They will send you an e-Residency kit(containing the digital ID card that identifies you as a member of the digital nation) to an e-Residency pick-up location.
Possible Issues when applying for the e-Residency
The process is normally quite smooth, and – unless you have a nasty criminal record – it will likely be approved. However, sometimes we have found applicants who were required to provide new photos due to blurriness or hair covering their faces.
In these cases, applicants will receive an email within a few days indicating what they should do. As the email contains text in Estonian and Russian, it's not uncommon to have it sent directly to the spam/junk folder, so be sure to check it regularly.
Investigation from the Estonian Police
If all goes well, you will be sent a message within a few days, informing you that the Estonian Police is reviewing your application. This is normal, it is part of the process, and the goal is to make sure you are a "good guy."
Some weeks later, you will (hopefully) receive approval confirmation and that your e-Residency kit of Estonia is on its way to your selected embassy. Next, over the next 1-2 weeks, you'll receive a notification asking you to come and pick it up.
4. Pick up Your e-Residency Pack
The feeling of finally having your e-Residency ID card is amazing. Not only does it open the door of Estonian administration to you but it also provides location (and financial) independence.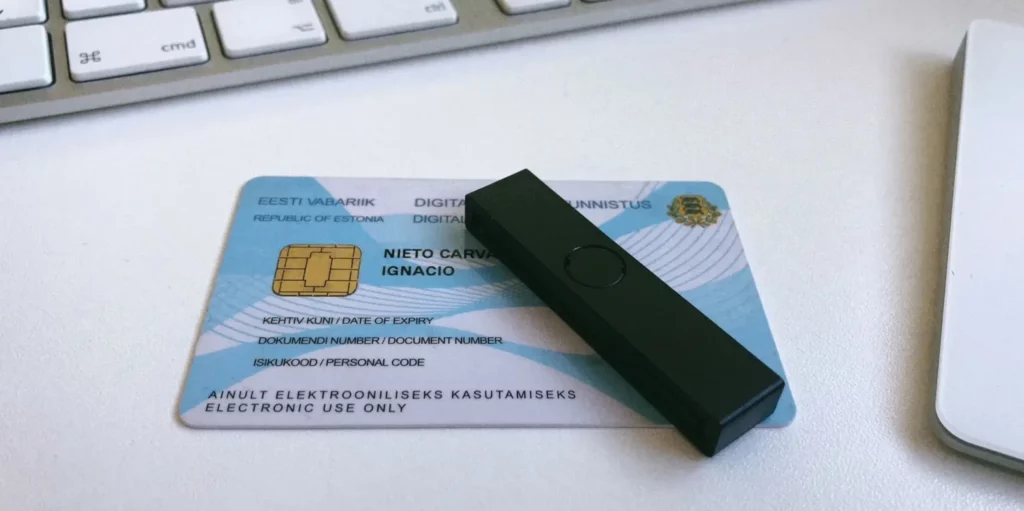 You will have to pick up your e-Residency kit of Estonia in person as your fingerprints are required and you will have to bring with you the same ID document you submitted in the online application form.
The e-Residency kit contains the card, a small, folding USB card reader, and some instructions which include:
PIN1: it is used to authenticate/access sites from your bank account to the Estonian tax office website to our Companio® dashboard.
PIN2: you will need it to sign documents, authorize bank payments and transactions, etc.
The PUK: it is required if you have to reset either of the PINs.
5. Start using your Digital ID
To begin using your ID you will have to download the ID software DigiDoc4, and then you will be able to insert your card reader into your computer's USB port. Keep in mind that the side of the card with the gold-colored chip must face upwards.
Once you have your e-Resident card, it's time to open your business in Estonia!
We guide you throughout the process, take care of registering your company, and manage your accountancy, bookkeeping, and taxes online, so you can focus on making your business grow. You can see how we can help you here.